Yoga for Gophers? That's a capital "G," as in the University of Minnesota's college sports team, the Golden Gophers. The football team has added a new component to its summer conditioning program: a weekly team-wide yoga class.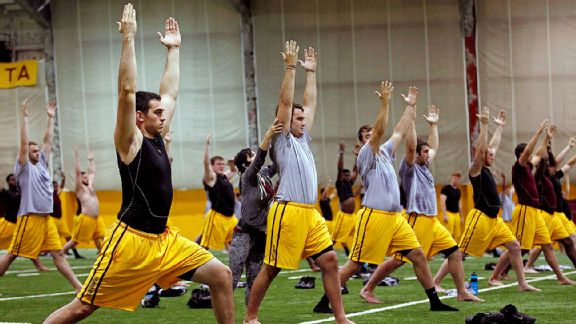 When the head coach asked him what he thought about yoga, strength coach Erick Klein knew a little about its effectiveness. His brother was a seasoned yogi, after all. "I believe in it," he told ESPN. "I tell our guys that you have to stress the body to make it better. But even more importantly, you have to focus on your recovery to allow us to stress it again the next day."
So, Klein asked Christine Ojala, owner of Thrive Mind Body in Minneapolis, to design a regimen for the team. Ojala did so, and one that emphasized not just strength training, but also flexibility, mental clarity, and restoration. All of which Klein hopes will transfer to the field next season.
The Gophers aren't the only ones embracing yoga as a way to enhance athleticism. Other athletes and teams who have been known to utilize its benefits include Shaquille O'Neal, the New York Giants, the Seattle Seahawks, Evan Longoria, and the Haverford College lacrosse team.
Many of these athletes seemed to have been hesitant before trying it out. Some men perceive yoga as very much a non-masculine activity. Chants or weird poses, they think. But they quickly become converts after realizing how beneficial–and challenging–yoga can be. In the Gophers' first yoga session, several of the players repeatedly fell over. They even gave one a nickname: the Awkward Pose.
It's now one of their favorite hours each week.